March 20, 2013
Asian Businesses Seminar
商家免費法規中文講座
Wednesday, March 20, 2013
18558 E. Gale Avenue,
3rd Floor,
City of Industry
免費停車
STC 資產管理以專業商業地產管理公司的身份,特別與洛杉磯縣政府相關部門合作,在四季廣場 STC Center 東區第一會館舉辦
免費講座
,請政府和執法部門專員現場答疑解惑,助您的經商之路一帆風順!
誠邀哈崗和羅蘭崗附近的商家和小企業業主參加一次免費的交流會。了解在洛杉磯縣經商的相關法規和許可要求,讓專家為您答疑解惑。

交流會全程使用中文講解。
讓您了解:
餐館的評級系統

分區和土地使用規定

經營許可證和執照要求

商家命名要求

如何行銷等。
名额有限,请即刻报名

:

RSVP

,
詳細資料將通過email發送給您。欲知詳情,請電洽Amy at (562) 695-1513x117
如對我們任何活動有興趣贊助或詢問的話請與我們聯絡。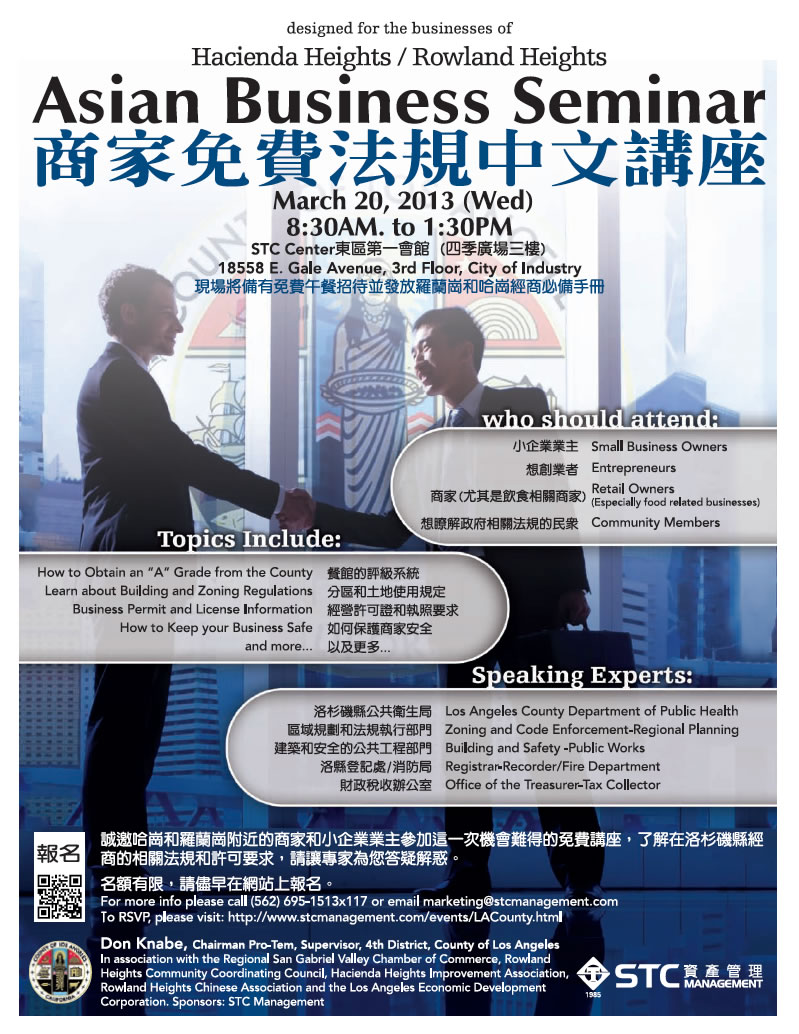 As a professional property management company, STC Management will collaborate will LA County and hold a
FREE Business Seminar
at STC Center. Law enforcement agencies will share the knowledge with you and answer your questions.
Hacienda Heights and Rowland Heights business owners are cordially invited to this informative event, to learn about regulations and license requirements in Los Angeles County.
Seminar will be presented primarily in Chinese.
Learn about:
the restaurant grading system
zoning and land use requirements
permit and license requirements
naming your business
marketing your business
and more.
For more information or to register, please contact
STC Management
marketing@stcmanagement.com or call (866) 782-4006, extension 117
Seating is limited, please
RSVP
as soon as possible. We will follow up with more information via email.
If you would like to keep updated with our news and events, please feel free to subscribe our e-news letter by
clicking here
If you are interested in sponsoring any of our events or have any questions, please feel free to contact us
HERE
.